We're committed to delivering high-quality ingredients in every box with our Freshness Guarantee. If any of your ingredients don't arrive ready to enjoy, please let us know within 7 days of receiving your delivery. While we aren't able to send replacement ingredients, we'll happily issue you a Blue Apron meals credit to make up for any additional ingredients you need to replace.
If an ingredient is missing or not usable, please let us know by filling out this form and selecting 'Report Ingredient Issue.'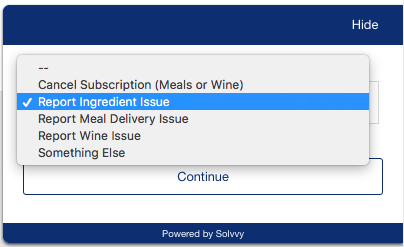 Whenever possible, please attach a photo of any affected ingredients with your submission, so we can pass it along to the appropriate teams who can make improvements in the future.