To change your upcoming recipes, head to your Upcoming page and locate the scheduled order you'd like to modify.
Here, you'll see the recipes you're currently set to receive indicated by a checkmark. You can select the dropdown menu under your delivery date to view and select recipes from a different plan for that week.
Once you've selected the plan you'd like to choose recipes from, click on the 'Change Recipes' button to the right of the delivery date. You'll see blue 'plus' symbols on each available recipe. From there, select the recipes you'd like by clicking on the 'plus' symbol and then pressing 'Save' to lock in your selections. You'll need to make all order and account changes prior to the 'Changeable before' date and time, located by clicking on the Receipt icon to the right of the 'Manage Delivery' button.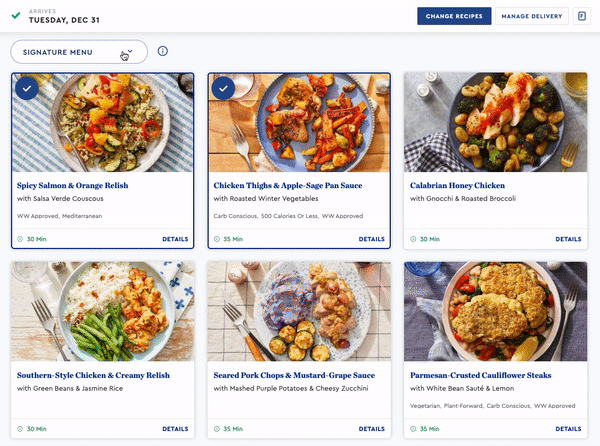 If using a mobile app, you can make recipe selections by tapping the calendar icon on the bottom navigation bar and locating the delivery date you'd like to modify. Here, tap the blue edit button at the bottom of your screen and select 'Change Menu' to modify your menu for that week.