Depending on your area, you may be able to select a different delivery day. To view your delivery day options, please follow the steps below:
1. Log in to your account.
2.  Hover your mouse over your name on the top right hand corner and click Account Settings.

3. In the Plan Settings section, click 'Edit' in the 'Meals' section.

4. A pop-will appear. Next to 'Delivery Day,' the drop-down bar will list all of the available delivery days for your area.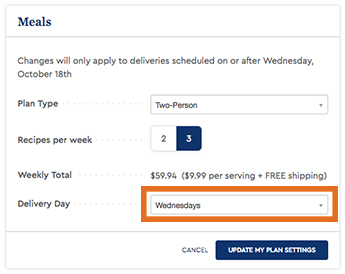 5. Select the day that you'd like to receive your orders and click the 'Update My Plan Settings' button.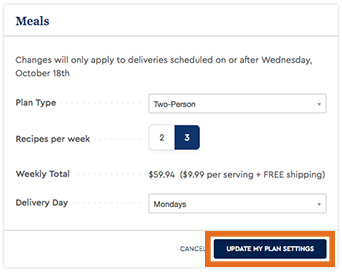 6. Once updated, a green banner confirming your update will appear at the top of your screen.

A friendly reminder, be sure to make all changes to your account by the 'Changeable Before' date listed in your Account Settings.