To update any Blue Apron account information, head to your Account Settings section. Here, you'll be able to select and edit any of the categories on the left hand side (Plan Settings, Meal Preferences, Delivery Info, Account Info, Payments, Social Settings).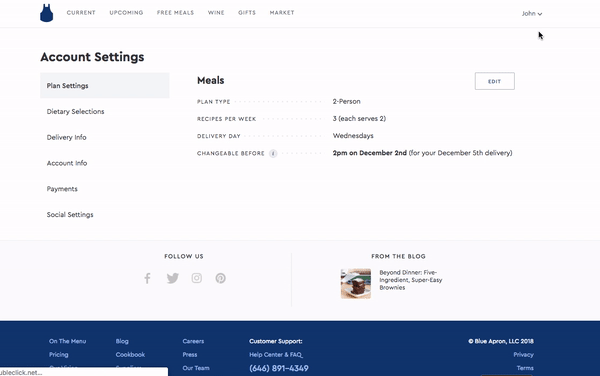 Whenever you make any changes, a green banner confirming the changes will appear at the top of your screen.
You can also change your plan, delivery address, and delivery date for a specific upcoming scheduled delivery by visiting your Upcoming Page and locating the order you'd like to modify. You can make these changes by selecting 'Manage Delivery' next to the order date.


Just be sure to make all account changes before the 'Changeable before' date reflected in your Account Settings. You can also view the 'Changeable before' date for a specific delivery by clicking on the Receipt icon to the right of the 'Manage Delivery' button.