Yes! You can purchase a meals E-Gift Card, applicable towards weekly recurring deliveries on any meal plan. To purchase a meals gift card, follow the steps below:
1. Head to our Gifts page.
2. Select 'Meal' for 'Gift Type.'
3. In the 'Gift Amount' section, you can select one of our popular amounts ($65, $130, or $260).
4. In the 'Quantity' section, you can enter how many gift cards you would like to purchase.
5. Click the 'Add to Cart' button.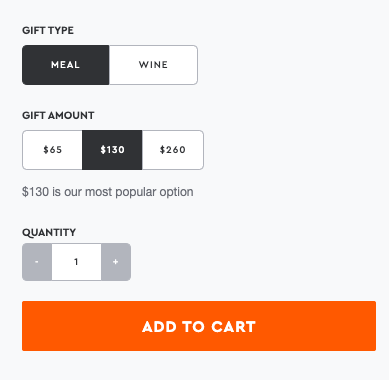 6. Click the 'Proceed to Checkout' button to enter your payment information and place your order.
Upon purchase, you should receive two separate emails to the email address you provided during check out. One email will serve as your confirmation of purchase and the other will be your gift email, which will include the unique details necessary to redeem the gift. Within the gift email, you will have the option to print out the PDF as a gift card or you can simply forward the email to the intended recipient.