Yes! You can purchase a meals E-Gift Card in any amount that you'd like, applicable towards weekly recurring deliveries on any meal plan. To purchase a meals gift card, follow the steps below:
1. Head to our Gifts page.
2. Select 'Meal' for 'Gift Type.'
3. In the 'Gift Amount' section, you can either select one of our popular amounts ($60, $120, or $240) or you can enter a custom amount.
4. Choose your 'Gift Delivery' method, 'Print at home' or 'Email to recipient.'
If you select 'Print at home,' you will be emailed a link to download a PDF of E-Gift Card, print the card at home and present the E-Gift Card in-person.
If you select 'Email to recipient,' the E-Gift Card will be emailed directly to your gift recipient on the date that you choose with an optional gift message.
5. Click the 'Add to Cart' button. If you would like to purchase additional E-Gift Cards, repeat steps 1 through 5 for each gift card you'd like to purchase.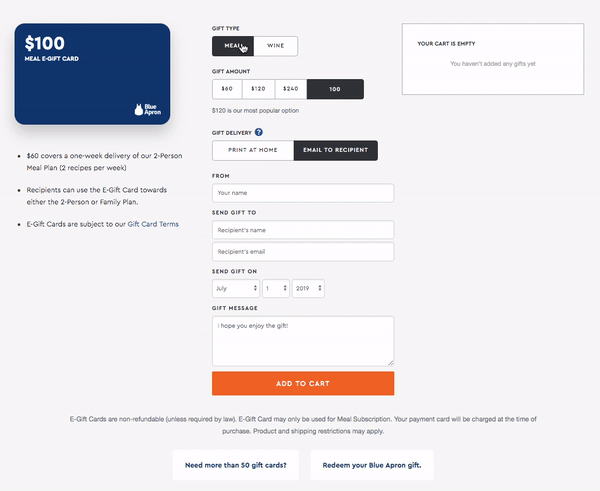 6. Click the 'Proceed to Checkout' button to enter your payment information and place your order.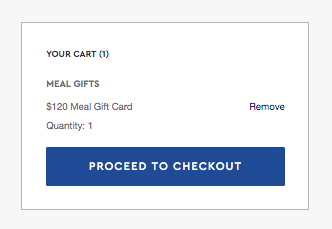 After the order is placed, you'll receive an email confirmation sent from team@blueapron.com.