Yes, you can reschedule an order to a different day within the same week. Just follow the instructions below:
1. Head to your Upcoming page.
2. Locate the scheduled order that you'd like to skip and click 'Manage.'

3. A pop-up window will appear and offer you the chance to reschedule or skip the order.
4. Click on one of the available delivery days shown and click the 'Reschedule to' button.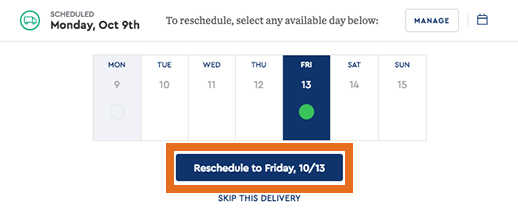 5. Then, click the 'Just This Delivery' button.

6. Once your order has been rescheduled, you'll notice the new date reflected on your Upcoming page.

Please note that all orders shown as 'Order Processed' or 'Shipped' in your Upcoming page have already been processed and, unfortunately, cannot be changed. A friendly reminder that you will be responsible for all charges (including applicable taxes and charges) relating to any order processed after the 'Changeable before' date.